Welcome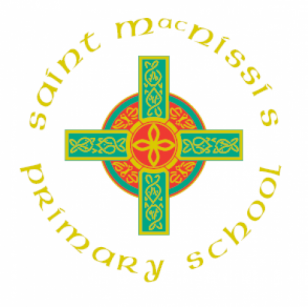 On behalf of the Governors, Staff and Pupils, you are very welcome to St. MacNissi's Primary School.
In partnership with parents, our goal is to ensure that every child in our care feels happy and secure in their learning environment to assist them in realising their full potential.
The aim of this website is to give you a greater insight into the ethos and day to day life of our school. Whether you already have a child at St. MacNissi's or are interested in a place for your child or are just curious about life in our school, you are equally welcome.
We hope that this website will provide you with all the information you need about our school. Should you require any further information please do not hesitate to contact us.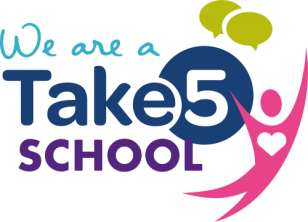 We were delighted to receive our Take 5 Level 3 award.
Take 5 steps to wellbeing is fully integrated throughout our school and reflected both in policy and practice.
Upcoming Events...
Thursday, 28th September 2023
Primary 6 Swimming Lesson (1.30pm)
Monday, 2nd October 2023
Staff Development Day (School closed for all pupils)
Tuesday, 3rd October 2023
Primary 4 Larne Library Visit (10.30am)
Wednesday, 4th October 2023
Primary 6 Larne Library Visit (10.30am)
Thursday, 5th October 2023
Primary 6 Swimming Lesson (1.30pm)
Friday, 6th October 2023
Hurling Practice (P7 Hurling Practice with Gary Bergin 1pm to 2pm)
Monday, 9th October 2023
Book Fair (Running all week)
Wee Critters Interactive Animal Education (Primary 6 from 1pm to 2pm)
Thursday, 12th October 2023
Primary 6 Swimming Lesson (1.30pm)
Friday, 13th October 2023
Hurling Practice (P7 Hurling Practice with Gary Bergin 1pm to 2pm)
Tuesday, 17th October 2023
Primary 4 Larne Library Visit (10.30am)
Wednesday, 18th October 2023
M&M Theatrical Productions (Jack & the Beanstalk Panto - (in school))
Thursday, 19th October 2023
Primary 6 Swimming Lesson (1.30pm)
Flu Vaccinations (School Nursing Team)
Friday, 20th October 2023
Primary 4 Larne Library Visit (Story Telling Event 10am)
Wednesday, 25th October 2023
Primary 6 Larne Library Visit (10.30am)
Thursday, 26th October 2023
Primary 6 Swimming Lesson (1.30pm)
Friday, 27th October 2023
Primary 6 Special Assembly
Latest Photographs