Admissions - September 2024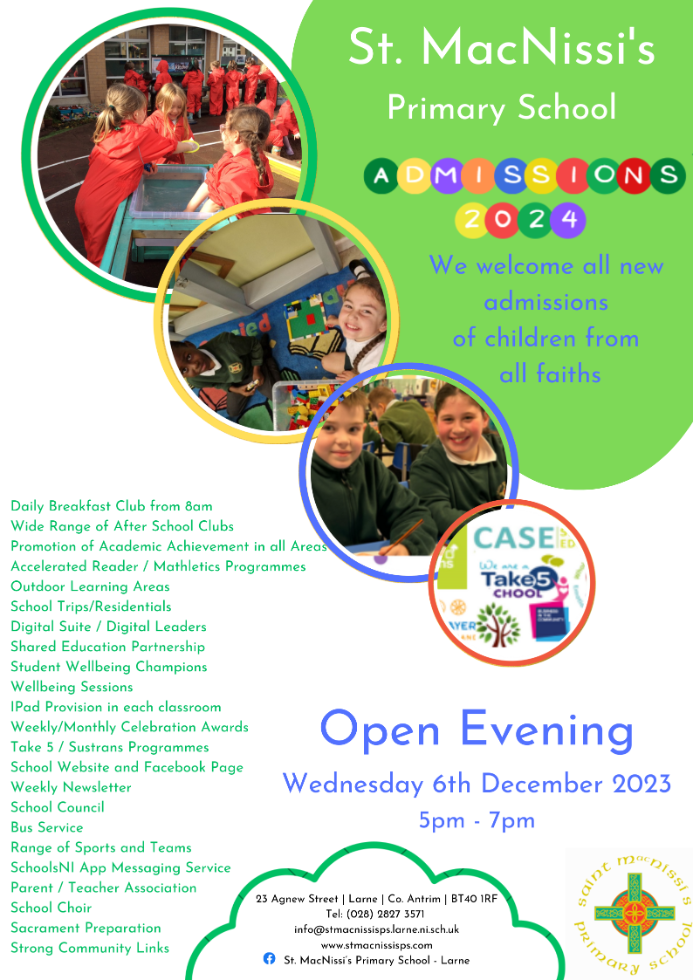 You can learn more about our school and see all the fun and exciting learning opportunities we have to offer through our school website and Facebook page.
All queries and questions are welcome – please telephone the school office on 028 28273571, email info@stmacnissisps.com or visit our website www.stmacnissisps.com
For more advice on the admissions process please visit the Education Authority website EA Admissions
Primary One Admissions Timetable (September 2024)
Tuesday 12th December 2023
EA publishes information on website about the primary one admissions procedure and admissions criteria for schools.
Tuesday 9th January 2024
Primary One application procedure opens with online portal available
Note: When an application is submitted an applicant must provide supporting documents if requested.
*In addition to any documents required the applicant must also provide the child's birth certificate.
Friday 26th January 2024 at 12 noon
Online Portal will not be accessible after this date/time to apply.
*An application received after 12 noon on 26 January 2024 treated as late.
During the admissions procedure when applying the criteria punctual applications are considered before late applications are considered.
On or before Wednesday 31st January 2024 (before 4pm)
An applicant can provide for any preference listed, documents in support of their application.
Thursday 25th April 2024
Applicants receive notification of outcome of application on 25th April by email where one is held or by letter.
16th Jan 2023
Some important upcoming dates for Primary One applications and admissionshttps://www.eani.org.uk/.../admi.../primary-admissions-guide