Welcome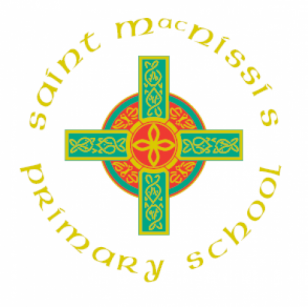 On behalf of the Governors, Staff and Pupils, you are very welcome to St. MacNissi's Primary School.
Our Vision
Our aim is to provide our pupils with a safe, inclusive and child-centred school community, where each child is nurtured to grow and develop on their spiritual, social, emotional and academic journey. We continue to provide our pupils with a happy, caring and stimulating learning environment where high-quality teaching and learning enables our pupils to become independent, resilient learners. Our pupils are encouraged to develop to their fullest potential and to contribute positively to the world in which they are living.
We hope that this website will provide you with all the information you need about our school. Should you require any further information please do not hesitate to contact us.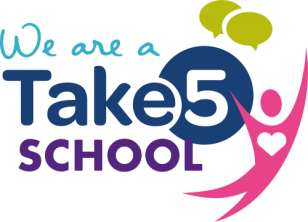 We were delighted to receive our Take 5 Level 3 award.
Take 5 steps to wellbeing is fully integrated throughout our school and reflected both in policy and practice.
Upcoming Events...
Monday, 4th December 2023
Primary 7 - Medics in Primary School (1.30pm)
Tuesday, 5th December 2023
Primary 6 - Peaceplayers at YMCA (9.30am)
Wednesday, 6th December 2023
School Open Night and Launch of School Development Plan (5pm to 7pm)
Thursday, 7th December 2023
Primary 6 Swimming (1.30pm)
Friday, 8th December 2023
PTA School Bingo Day
Wednesday, 13th December 2023
Christmas Dinner Day
Thursday, 14th December 2023
Primary 3 and Primary 4 Christmas Play (1.15pm in the assembly hall)
Primary 6 Swimming - last lesson (1.30pm )
Friday, 15th December 2023
Primary 1 and Primary 2 Christmas Play (1.15pm in the assembly hall)
School Choir to Gloucester Day Park (11.15am)
Wednesday, 20th December 2023
Primary 5, 6 and 7 - Christmas Play (1.15pm in St Comgall's Club Auditorium)
Thursday, 21st December 2023
Finish for Christmas Holidays (11am)
Friday, 22nd December 2023
Christmas Holidays
Monday, 25th December 2023
Christmas Holidays
Tuesday, 26th December 2023
Christmas Holidays
Wednesday, 27th December 2023
Christmas Holidays
Thursday, 28th December 2023
Christmas Holidays
Friday, 29th December 2023
Christmas Holidays
Monday, 1st January 2024
Christmas Holidays
Tuesday, 2nd January 2024
Christmas Holidays
Wednesday, 3rd January 2024
Christmas Holidays
Latest Photographs